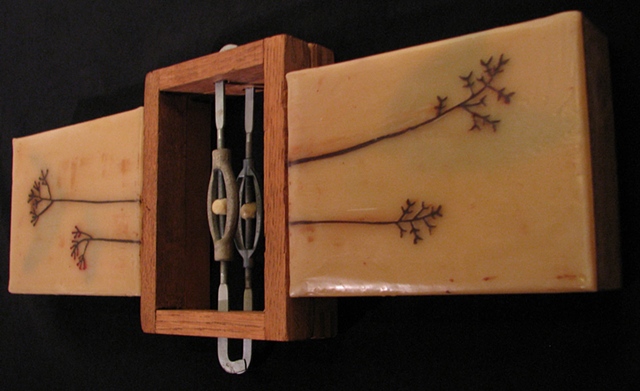 I was raised in a small farming community in rural Illinois. The land, its colors and contours, has left an indelible imprint on my work. Small, fragile plant forms are often featured: the ones you would only notice while lying on your belly in the grass; the ones most people trample on.
There is a collaborative element to my work. Found objects forged by other hands suggest shapes or patterns that inspire and define the direction of the piece. I try to find the balance between the subtle tension and its resolution in reductive organic figures. My recent work is focused on simple repetitive patterns in nature, and the endless variety and individuality of the constituent forms.
In 1995, I received my BFA in Printmaking from Illinois State University and completed an art residency at Vinalhaven Press in Maine. I have exhibited at the McLean County Arts Center; Bradley University Gallery; Illinois State University Gallery, ARC Gallery, Illinois; Conrad Wilde Gallery, Arizona; Papercuts and Gluesticks Gallery, Ohio; Bakersfield Museum of Art, Surface Gallery, Betty Younger Gallery, Bakersfield College Jones Art Gallery, O'Hanlon Art Center, 2nd Street Gallery, and UCLA, California; Eigelstein Torburg, Köln Germany.